The Green Corridor District was created and operates to encourage Energy Efficient improvements and Wind Storm Resistance to residential and commercial property. The Board is composed of select representatives from the founding municipal "Corridor" including Coral Gables, Cutler Bay, Palmetto Bay, Pinecrest, Miami Shores, Miami, and South Miami, however its program has been extended throughout Florida.
The Board of Directors of the Green Corridor Property Assessment Clean Energy District will hold their regularly scheduled public meetings for Fiscal Year 2020 at 9:00 a.m., at 7415 NW 19th Street, Suite "H", Miami, Florida 33126 on the third Wednesday of the following months:          
            February 19, 2020 (cancelled)
            June 17, 2020
            July 15, 2020
            August 19, 2020
These meetings are open to the public and may be continued to a time, date and place certain.  Directors may attend the meeting by telephone as long as there is a quorum present at the meeting place.  Any person wishing to receive a copy of the minutes of the meeting may contact the District Office at 954-721-8681.
Each person who decides to appeal any action taken at these meetings is advised that person will need a record of the proceedings and that accordingly, the person may need to ensure that a verbatim record of the proceedings is made, including the testimony and evidence upon which such appeal is to be based.
Some document files attached to the Green Corridor website pages may be in a format that requires an additional browser extension or a special application on your computer or device to be able to open them.
Some of these document files are produced by Microsoft Office .  If you have Microsoft Office installed on your computer, then your web browser should be able to open these files automatically.  If you do not have Microsoft Office, there are other alternatives including the Apple office applications (Pages, Numbers, and Keynote) found on most Macintosh computers, or the free Apache OpenOffice or LibreOffice.
Some of these document files are produced by the Microsoft Office.  If you have Microsoft Office installed on your computer, then your web browser should be able to open these files automatically.  If you do not have Microsoft Office, there are other alternatives including the Apple office applications (Pages, Numbers, and Keynote) found on most Macintosh computers, or the free Apache OpenOffice or LibreOffice.
Some of these document files are produced by the PDF application. Please note that some more-recent browsers have the ability to download and view PDFs. To download and view PDF files, please download a PDF reader such as Adobe Acrobat Reader.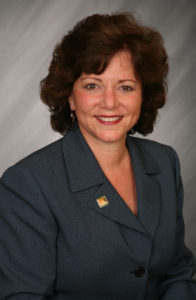 Former - Mayor Cindy Lerner, Village of Pinecrest - At Large Chair
Cindy Lerner was elected Mayor of Pinecrest, Florida in November 2008 and subsequently re-elected for a second four year term, without opposition, in 2012. Throughout her eight year term, Mayor Lerner led the Village to being a leader in sustainable practices and Climate Change policies. She has been invited by the White House to The US – China Climate Leaders Summits in Los Angeles in 2015 and in Beijing in 2016 as a presenter.
She served as the Chair of the National League of Cities' Energy, Environment and Natural Resources Policy Steering Committee, in 2015, vice Chair in 2014, and on the NLC National Board, on the NLC Presidential Election Task Force and is currently Vice Chair of the 21st Century Schools Bond Advisory Committee of Miami-Dade's public schools, the National Board Chair of Democratic Municipal Officials, serves on the Advisory Council for the CLEO Institute. She is a Past President of the Miami-Dade County League of Cities, served on the Miami-Dade County Community Based Care Alliance.  
Mayor Lerner was previously elected to the Florida House of Representatives , District 119 in 2000 . Prior to her legislative tenure, she was a practicing attorney with the Guardian Ad Litem Program at Miami-Dade County's Juvenile Court  In 2000, she was elected  to the Florida House of Representatives to represent District 119, which included Pinecrest and all South Miami-Dade. Mayor Lerner is a proud graduate of Miami Palmetto Senior High School, Tulane University and Emory University School of Law. Mayor Lerner is married to Dr. Irv Lerner, a veterinarian, they have three adult children and two grandchildren.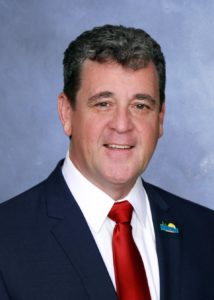 Mayor Tim Meerbott , Town of Cutler Bay - Vice Chair
Tim Meerbott has deep roots in the Cutler Bay community, living here since he was a baby.  Tim decided to work toward making Cutler Bay a better place to live, work and play. He has the honor of being the first Town Council Member of Cutler Bay to have ever been sworn into office, a position he held from 2006-2010.
Some of the highlights of his extensive involvement with the Town include being a member of the Town's Charter Committee in 2014 and 2018, a Town Business Liaison from 2006-2010, and Co-Creator and Chair of the South Dade Municipal Coalition, among many other achievements. Some may say, however, that his greatest achievement was his sponsorship of the green initiative that allowed golf carts to ride through the Town's streets—something that has become a staple of this community.
Tim raised his two sons, Lance and Kyle, now in their 20s, in Cutler Bay—along with his wife of 28 years, Cosette, an elementary school teacher who passed away on September 22, 2015. He understands the character and small-town feel that our community has and works hard to preserve it. In addition to his heavy involvement with the Town, Tim has also participated in many schools' sports teams and faith-based organizations. He holds a Bachelor of Science Degree in Economics from Florida International University and is currently a Senior Division Manager for Allstate Corporation—where he has worked at for over 30 years.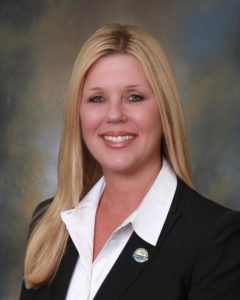 Mayor Karyn Cunningham , Village of Palmetto Bay
Karyn Cunningham was elected as Palmetto Bay's Mayor on November 6, 2018. A native of Miami-Dade County and a graduate of Miami Palmetto Senior High, Mayor Cunningham graduated Cum Laude from the University of South Florida in 1985 and holds certification in Elementary Education and Psychology. She received her Urban Education Certification from Florida International University in 1987. Karyn and her family have lived in the Village of Palmetto Bay since 1995. She has one daughter, Megan. Mayor Cunningham is an accomplished teacher, community activist, and advocate for education. She began her career teaching first grade and has been with Miami-Dade County Public Schools for 18 years.
Karyn took her career outside the classroom by serving with United Teachers of Dade. At UTD she served in many capacities during her fourteen years. She specialized in review of public policy, community engagement, communications, and membership support. Mayor Cunningham is actively involved on the boards of many local not-for-profit organizations.
She serves as Vice-President of The Melissa Institute for Violence Prevention and Treatment and is the Chair of the ChamberSouth Education and Business Coalition. In addition, she serves on the Advisory Board of Common Threads, The Yaegar Foundation and was most recently appointed to The Salvation Army Adult Rehabilitation Center Board. Mayor Cunningham was also appointed as Co-Chair to the Florida League of Cities Transportation and Intergovernmental Relations Committee, serves on the ChamberSouth Board of Directors and is on the board of the Friends of Chapman Field.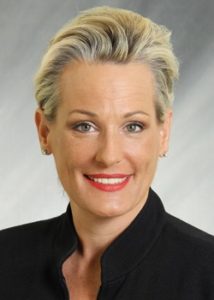 Councilmember Anna Hochkammer - Village of Pinecrest
Anna Hochkammer was elected to Seat 1 in 2016. She earned a B.A. degree in comparative literature from Northwestern University.
Councilmember Hochkammer was a teacher and community activist for children and families. She served as PTSA President of Miami Palmetto Senior High School from 2014 -2016 and was appointed to the Miami-Dade Public Schools' Family and Community Involvement Committee in 2016.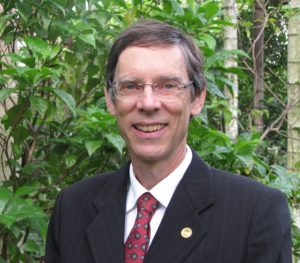 Mayor Philip Stoddard, City of South Miami
Mayor Philip Stoddard was first elected to office in 2010 and is currently serving his fourth term as Mayor. In 2015 Mayor Stoddard was appointed by the White House to the Governance Coordinating Committee of the National Ocean Council where he developed national policy for sea level rise. In 2016 Mayor Stoddard was named by Politico Magazine to the Politico-50 "guide to the thinkers, doers and visionaries transforming American politics in 2016". He was named the Green Municipal Official for 2016 by the Florida Green Building Coalition.
Miami New Times named Mayor Stoddard the "Best Politician of 2017″. Dr. Philip K. Stoddard has been a professor of biology at Florida International University since 1992. A big proponent of renewable energy, his house and car are powered by the sun. Mayor Stoddard has been featured in The New York Times, The New Yorker, Time, National Geographic, The Guardian, Rolling Stone, Stern, The Bond Buyer, NPR, PRI, BBC, MSNBC, Bloomberg Businessweek and numerous documentaries including National Geographic's "Years of Living Dangerously" which showed in 171 countries in 47 languages, and Discovery Channel's "MOSQUITO" which showed in 189 countries.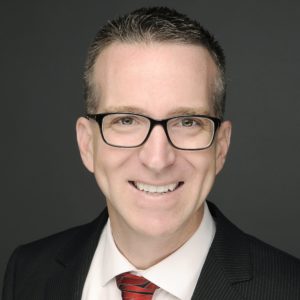 Vice Mayor Sean Brady, Village of Miami Shores
Sean Brady is Vice Mayor of Miami Shores, Florida.  He has more than 20 years of post-collegiate professional experience in the area of data and analytics. He received his MBA from the University of Florida and an undergraduate degree in Computer and Information Sciences from Florida State University . Mr. Brady is currently managing the Master Data team for the Business Intelligence & Analytics unit for the world's largest PEO, ADP TotalSource. A South Florida native who grew up in Miami Shores Village and the Village, I  attended Miami Shores Presbyterian Church School for preschool, St. Rose of Lima's elementary school, and then public school through high school. 
I played sports at the recreation center and enjoyed Scouting with my dad Dan and my brothers Kevin and Scott My wife Jamie and I have two children; our son is a Miami Shores Elementary school student who is enjoying playing basketball at the recreation center and our daughter is two going on 10. In the last few years, I've served on the Board of Directors of the Greater Miami Shores Chamber of Commerce, and I recently completed a two year term on the Board (serving as the Treasurer) of the Miami Shores Community Alliance. Participate in "Greening Gateways" type local, State and Federal beautification grant programs. Explore options for trash removal and aesthetic improvement of our I-95 exits at 95th and 103rd streets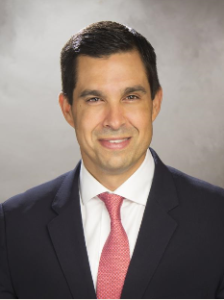 Vice Mayor Vince Lago, City of Coral Gables
Vice Mayor Vince C. Lago was re-elected for a second four-year term on April 11, 2017 and was sworn in as a City Commission on April 28, 2017. He began his first term of service on April 12, 2013. Commissioner serves on various decision making boards and foundations in our community. He is  a board member of the President's Council at Florida International University (FIU). Having earned both a Masters in Construction Management from the Engineering School at FIU and a Bachelors of Business Administration from FIU . In 2017 he was appointed as a board member to the Miami Dade Transportation Planning Organization representing the City of Coral Gables. Born in New Orleans, Louisiana, he moved to Coral Gables in 1980. He graduated from Gulliver Preparatory School in 1996. In 2007, Commissioner Lago is an executive at a distinguished management and design firm which focuses on commercial construction and specializes in the construction of medical and educational facilities.
Civic Affiliations
Liga Contra El Cancer, Board of Directors
Locust Projects, Board of Directors Liaison
Coral Gables Community Foundation, Board of Directors
City of Miami Arts and Entertainment Council
Coral Gables Museum, Board of Directors Ex-Officio
Miami Dade County League of Cities, Board of Directors
PACE Green Corridor, Board of Directors
Tenet Health Coral Gables Hospital, Governing Board Member
Transportation Planning Organization Member
TPO Executive Policy Committee, Board Member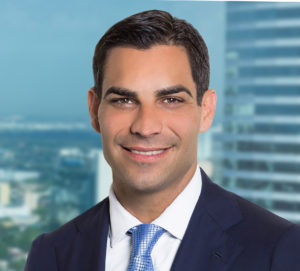 Mayor Francis Suarez, City of Miami
Mayor Suarez is married to Gloria Fonts Suarez. They have a son, Andrew Xavier, and a daughter, Gloriana Pilar. Prior to being elected with 86 percent support from Miami residents, Mayor Suarez served as Miami Commissioner for District 4 during eight years. Mayor Suarez legislative accomplishments as Commissioner include implementing ShotSpotter technology in the City, a state-of-the-art gunshot detection system, setting up a transportation trust fund, which allocates funds for current and future transit projects. Mayor Suarez also serves as Chair of the Environment Committee, as well as on the Advisory Board of the U.S. Conference of Mayors.. He also serves as Vice-Chair of the Miami-Dade Transportation Planning Organization (TPO) and is the former President of the Miami-Dade County League of Cities. In his role at the TPO, Mayor Suarez championed the Strategic Miami Area Rapid Transit (SMART) Plan, which was unanimously approved. Mayor Suarez helped negotiate the Tri-Rail connection to Downtown, offering free ridership to Overtown residents for life. Mayor Suarez earned a bachelor's degree in finance from Florida International University, graduating in the top ten percent of his class. He went on to receive his law degree from the University of Florida Frederic G. Levin College of Law, where he graduated cum laude.He is currently an attorney with the law firm Greenspoon Marder, specializing in corporate and real-estate transactions.
For a link to the accessible documents disclosure, please see the Accessibility Disclosure for Attached Document Files.  For a list of our pages, check out our Sitemap.
If you use assistive technology (such as a Braille reader, a screen reader, or TTY) and the format of any material on this website interferes with your ability to access information, please contact us at 954-721-8681 or email pwinkeljohn@gmssf.com.
To enable us to respond in a manner most helpful to you, please indicate the nature of your accessibility problem, the preferred format in which to receive the material, the web address of the requested material, and your contact information. Users who need accessibility assistance can also dial 711 to reach the Florida Relay Service.